Do you know why
A well laid out training plan is so important?
A properly composed training plan provides personalized information that tells you what to do during your training units for optimal results.
This plan should be consistent and coherent with the objective. It should have some kind of structure to assist in maintaining the right direction while achieving a given objective. All of these factors enable you to reach your results in a shorter period of time and also reduce the probability of failure. A well-planned training plan includes the proper manipulation of training parameters, the right choice of exercises and the use of various methods. Moreover, it should take into consideration the level of training and other individual factors of the person performing it (e.g. health condition). It is worth to say that the training schedule allows you to control the achieved effects and to make changes at any time. Without a training plan most of the actions during training will be performed intuitively, therefore the chances of achieving the goal are negligible.
I will plan your workout in such a way that it is adjusted to your expectations, level of your training, and gives you a lot of joy from its realization. What is more, performing it will enable you to achieve your goal and will teach you how to train properly!
Using a training plan ...

You get rid of problems connected with searching and applying knowledge which would enable you to achieve results.

You get knowledge from a person who has relevant experience and knowledge.

You receive a personalised and effective training plan with information on what to do during training.

You are able to achieve your pre-planned goals faster and more safely.
Choose a training plan for yourself!
Workout plan for body fat reduction
Workout plan for muscle mass gain
Workout plan for increasing muscle strength
Training plan for improved physical fitness and health
Training plan for an athlete
Training plan for an individual goal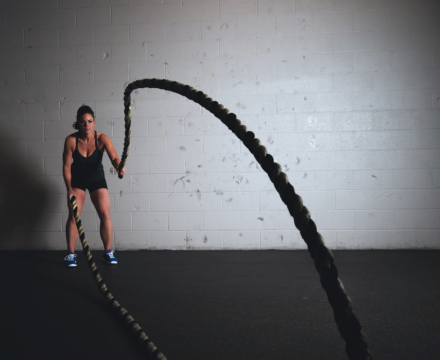 Do you want to lose weight?
This training plan is designed to increase energy expenditure and the amount of adipose tissue broken down while modelling your body shape. The plan must include the right intensity, volume and frequency of training. What is more, the exercises in the plan must be adapted to the training level and health condition of a certain person.
If you want to reduce fat, this type of training plan is for you!
Training must be matched to your training level and goal
See example training unit from the training plan
It is part of a training unit that aims to prepare the whole body for the main exercises, increase the body's exercise capacity and reduce the occurrence of injuries. This block is separated into several sub-blocks such as: increase of body temperature, auto-loosening of tissues, stretching and articulation of joints, stimulation of neuromuscular system. Each sub-block contains exercises to achieve its objectives, as well as precise guidelines and links explaining how to perform them.
3
FINAL PART OF THE WORKOUT
IN JUST A FEW STEPS
YOU'RE JUST A LITTLE AHEAD OF YOU MAKING A GOOD DECISION
CONSULTATION MEETING
QUESTIONNAIRE FILLING
SENDING ADDITIONAL INFORMATION
RECEIVING AN INDIVIDUAL TRAINING PLAN
Ready for a change?
See the cooperation options
Initial consultation
free of charge
Make an appointment for the first free consultation
This is where we will discuss your expectations, your goal and how to cooperate.
Consultation
You get it:
a single 60-minute consultation
to discuss all training-related problems
basic guidelines for solving the problems that arise
Writing a training plan for a period of 4 weeks
You get it:
consultation with the Trainer
assessment of the level of physical fitness and health
individual training plan for a period of 4 weeks
monitoring progress and applying corrections
Most popular option
Writing a training plan for a period of 12 weeks
You get it:
consultation with the Trainer
assessment of the level of physical fitness and health
individual training plan for a period of 12 weeks
monitoring progress and applying corrections